LifeProof frē case for iPhone 5 hands-on
1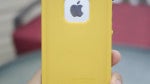 It's not every day do we find an
iPhone 5
case that's so versatile, yet, the majority of them tend to be extremely bulky in both size and weight – to the point that they mask any and all of the beautiful design elements of the handset. Fear not folks, it seems as though we finally have one reasonably good looking protective case that's, well, simply lifeproof. Being
IP68 certified
and all, it means that the
LifeProof frē case
goes above and beyond most other things that claim superior protection.
Unlike some of its rivals, the thing that amazes us about the LifeProof frē case from the onset is its
slim looks and pocketable feel
. For something that's touted to protect the smartphone from so many things, it's amazing that it doesn't have that distinguished bulky feel that most rugged cases tend to have. Rather, it's an attractive looking thing that manages to maintain the iPhone 5's lovely figure – while at the same time, it delivers that all around protection that we crave. Even better, we definitely appreciate the
contrasting black/yellow color scheme
of this particular version, which no doubt helps to give it some shine.
Taking a look around the case, we still have access to all of its ports and buttons, however, there are 2 things that do stand out. First, the 3.5mm headset jack requires the aid of the included adapter, seeing that the port itself is now recessed. Secondly, there's a bit of difficulty hearing voices through the earpiece, since it's now hidden behind the plastic front cover of the case. Despite those things, we still appreciate how this is one strong and rugged case – allowing it to
survive drops from a maximum height of 6.6 feet
. And finally, the
waterproof
aspect of the LifeProof frē case is extraordinary, especially when you consider that it's fully submersible up to 6.6 feet. Therefore, it's handy if you want to snap some photos and videos on the beach, or maybe in a backyard pool. Whatever the case, it's something so unique.
Brandishing a retail cost of
$79.99
, online or in stores, there's no arguing that it's a hefty tally to dish out – then again, we can't deny that it's warranted. For starters, it's lifeproof! Well, it won't hold up against molten lava or other extreme things like that, but for most everyday life-living situations, the LifeProof frē case is bound to keep that iPhone 5 adequately protected. Ultimately, you can have peace of mind in the event you accidentally drop it.
source:
LifeProof
More iPhone 5 cases to check out