Lepow shows off some nifty Bluetooth accessories
2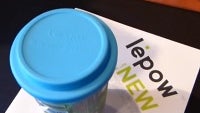 Chances are you are a daily user of mobile technology, and the multitude of applications or media that are available to enhance the experience. Why not look good while doing so?
Lepow is making a name for itself with some snazzy and modern looking accessories for our mobile technology and the company had a few new items to show off, most notably the HiSmart convertible urban bag.
This Bluetooth connected bag will hold your stuff, and let you stay connected without having to grab your phone all the time to change a song, or answer a call. While connected to the HiSmart app, you can even pin a location to recall later. What makes the HiSmart bag unique is its versatility, it can be configured to be a backpack, a messenger bag, a sling tote, or a sling backpack. The HiSmart bag is available for pre-order through IndieGogo for $249. The campaign is well past its funding goal, so if you order one, you will have it by August.
Another cool item Lepow was showing off was its Bluetooth Modre speaker. It has been available for a while now, but part of the Modre's allure is it nifty packaging, not to mention excellent sound quality and killer price.
The Modre Bluetooth speaker can be found online for under $20 and for that you get a wireless speaker that puts out great sound, works as a speaker phone, offers up to 7 hours of operation, and comes in witty looking coffee cup packaging. That's just style.
You can pre-order your
Lepow HiSmart urban bag here
, and the Modre Bluetooth speaker is an easy find
on Amazon
.