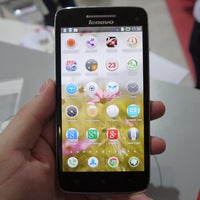 It has been a while since we last had the chance to test a Lenovo smartphone, so while we were at the company's booth at IFA, we decided to spend some time with one of its latest devices. It is known as the Lenovo Vibe X – an Android handset that packs quite a punch while keeping a slim profile at the same time. How slim, you ask? Well, the smartphone has a thickness of under 7 millimeters, which is impressive, to say the least. It is also very light for its size. What makes the Lenovo Vibe X feel even more premium is the texture on its back – although its just plastic, the laser-etched pattern on the surface feels a lot like fabric to the touch. We aren't big fans of the chrome-colored plastic trim around the sides, however.
As many other high-end Androids, the Lenovo Vibe X come with a 5-inch display, the resolution of which is 1080 by 1920 pixels. As a result, everything displayed on it looks great, especially with the IPS panel's accurately represented colors. The smartphone's 1.5GHz quad-core SoC is made by MediaTek. The chip probably isn't as speedy as Qualcomm's quad-core silicon, for example, but we assume its adequate enough. Unfortunately, the unit we tested wasn't running a final software build so it was quite glitchy, which is why we can't comment on the smartphone's performance right now.
The interface on the Lenovo Vibe X is heavily modified, with a new lock screen, modified notification panel, extra widgets, and so on. The company has chosen to remove the app drawer and go for a more iOS-like approach, with all apps listed on the home screens (or placed in folders). Overall, the UI isn't bad, but we have mixed feelings about it after our quick encounter with the device.
On the back of the Lenovo Vibe X we have a 13MP auto-focus camera, which should be capable of taking decent photos and videos. The front-facing camera must be mentioned as well as it has a resolution of 5 megapixels. On top of that, its wide-angle lens gives it a wider field of view for better selfies with you and your buddies around you.
Sadly, Lenovo isn't planning on launching its Vibe X smartphone in the US or Europe, or at least not for now. The device will be available in Russia and parts of Asia later this year.