LG counting on LG G2 to provide it with an extra sales boost for the second half of the year
13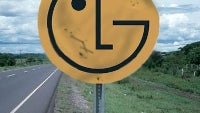 LG officials told The Korea Herald on Friday that it expects the
LG G2
to give it an extra
sales boost
for the second half of the year. This comes after the Korean based OEM
has had two consecutive quarters with more than 10 million smartphones sold
for the first time in company history. An LG insider says that the company has refocused on design.
We've already told you that LG has dropped the Optimus name from its high end devices and will use it now for its low to mid-end smartphones. As a result, the LG G2 is the name of the upcoming sequel to the LG Optimus G.
"The G series has already become an invaluable brand within our company with worldwide reputation and recognition. Our marketing strategy is to project the G series as LG's flagship line for the future."
-LG Insider
The LG G2 has a unique design.
The volume rocker is on the back of the phone
, along with the power switch. Under the hood will be a quad-core 2.3GHz Qualcomm Snapdragon 800 with 2GB of RAM. And the 5.2 inch screen will bring a 1080 x 1920 resolution.
LG has been successful with it's G series which includes the
LG Optimus G
and the
LG Optimus G Pro
. And LG has also matched up feature for feature with the
Samsung Galaxy S4
as both Korean manufacturers offer multitasking capabilities and other features that stop videos when you're not looking at the screen. The company will
introduce the LG G2 at an international event on August 7th
. A
video of the LG G2 in action
was recently leaked.
source:
KoreaHerald
via
UnwiredView