LG G3 gets showcased, Microsoft Surface Pro 3 is announced, and the Galaxy S5 Active poses for the camera: weekly news round-up
3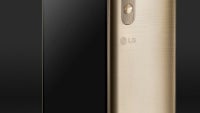 So there's this LG press conference coming up on Tuesday. You know, the one at which the
LG G3
is expected to be announced. It is an event that we all know about as the company
confirmed it weeks ago
. Last week, however, an event of a much more secretive nature took place in Korea, and what do you know, LG showcased its upcoming G3 flagship in front of the attendees. Sure enough, leaks started to surface shortly after the event, revealing all there is to know about the highly anticipated device.
Also on the list of last week's most interesting stories is the announcement of the Surface Pro 3 – the tablet that can replace your laptop, as Microsoft puts it. The device boasts an impressive specs sheet, and its durable design is commendable, but the pleasure of owning one will come at a price.
In other news, (or should we say leaks,) a phone believed to be the Samsung Galaxy S5 Active was shown in a series of unofficial photos. This S5 variant is presumed to be more durable than the standard Galaxy S5 model, and AT&T should be one of the carriers interested in offering the device.
For more must-read stories from last week, flick through the slideshow below!