Indian Micromax signs Hugh Jackman as a brand ambassador
32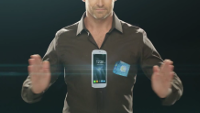 Depending on where you live, Micromax could be both a profoundly familiar smartphone manufacturer, or a complete stranger. Based in India, it's one of the leaders in the growing local market, but unlike many of the smaller Asian manufacturers, Micromax has actually taken a decidedly Western approach to the way it conducts business. With that in mind, it shouldn't be a surprise to see that the company has now enrolled movie star Hugh Jackman's services as a brand ambassador.
Jackman's first appearance is in a ten second long clip teasing the upcoming Micromax Canvas Turbo, said to come with Android 4.3 out of the box, and expected to sport a 1080p display along with a quad-core chipset.
Micromax CMO Shubhodip Pal is in an expectedly good mood after the deal:
"
We are very excited to welcome Hugh Jackman in the Micromax family as he truly embodies the aspirational, reinventing and fearless persona of the brand Micromax. As we look to expand our footprint across the globe in various international markets, the association with the Hugh Jackman is an ideal partnership for us to connect with audiences as he is the leading name in the entertainment industry in the world
"
And Jackman, of course, also did his part:
"
I am extremely thrilled and honored to be part of the Micromax family. I am a huge lover of India as it is one of the most exciting countries in the world and we also share our love for cricket. Phones are genuinely time saving devices that can help you live a better life while juggling around with different situations
," commented the actor in a statement.
There's currently no word on when the Micromax Canvas Turbo will come out, though it's expected to see an official release before the end of the year. In any case, it'll be interesting to see whether non-global manufacturers such as Micromax will end up playing a notable part in the smartphone market in the years to come, for their appetite is admirable.