In other Apple legal proceedings, Amazon asks judge to throw out lawsuit against them
33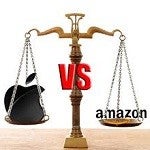 There has been so much lawsuit news lately that this case seems almost benign by comparison. Apple claims that Amazon is using deceptive advertising with the latter's "App Store" name.
When Amazon launched their first generation Kindle Fire tablet, the company opened its portal for customers to download apps, "Amazon Appstore." Apple filed a trademark claim last year saying that Amazon's name was misleading versus a name like, "Amazon Appstore for Android."
At US District Court in Oakland, California, Amazon filed a request to have the lawsuit thrown out on the grounds that "app store" is a completely generic term, therefore its use does not constitute false advertising. Amazon cited that even Apple's CEO, Tim Cook, and the late Steve Jobs used the term loosely to describe the competitive app landscape, and quoted Cook on a comment about "the number of app stores out there."
"Apple presumably does not contend that its past and current CEOs made false statements regarding to those other app stores to thousands of investors in earnings calls."
The hearing on Amazon's motion to dismiss is scheduled for October 31st. If this case goes to trial, it is scheduled for August 19, 2013.
Which way do you think this will go?
source:
Reuters