How much better are the stereo speakers on the Xperia Z2 over the Xperia Z1? This video provides a clue
40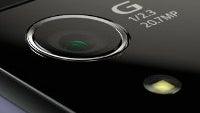 Whilst we're still on the
Xperia Z2
hype wave (read: before an actual review unit comes in for an actual review), we thought we'd share an early teaser created by our more fortunate Chinese colleagues over at ePrice.
Said folks have done a small audio comparison that pits the shiny new Xperia Z2 directly against its predecessor, the
Xperia Z1
. This strictly non-scientific project, while inconclusive, is somewhat indicative of what you can expect of the front-facing stereo speakers found on Sony's refreshed flagship. The stereo effect is distinguishable, especially when you have the unimpressive mono speaker on the Xperia Z1 as a benchmark.
Sony is obviously hoping that stuffing its new flagship with the latest possible tech in each and every regard will be a winning strategy, and we can't quite blame them. The market has, after all, responded very well to having the latest, most bleeding edge hardware available in a single package. The Sony Xperia Z2 manages that very well. Obviously, this is still pre-review talk, but from the look of it Sony has done a good job with the Xperia Z2. Now please focus on trimming the bezel fat, will you, Sony?
Oh yeah, don't forget to have a listen right below.