Here's a closer look at Magellan's Echo Smart Sport Watch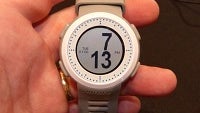 One of the best applications for wearables is arguably in the area of health and fitness. This is not a coincidence. Athletes and enthusiasts like to measure their physical performance as much as us geeks like to review spec sheets on a gadget.
Whether you are an active runner, outdoorsman, or trying to say goodbye to an unhealthy lifestyle and get active again, smart wearables can be an invaluable tool to motivate you to stay committed to achieving a given goal.
Magellan introduced the Echo Smart Sports Watch at CES 2015, and for only $129, you get a remarkable amount of functionality in a simple form factor. Using Magellan's Echo Fit app, and a number of other applications that have been made by partner developers, you can track your performance, receive notifications, monitor sleep patterns, analyze and share your progress on social media.
The Echo also delivers 6 months of battery life off a common coin battery. The watch is compatible with iOS and Android devices, comes in a variety of colors, and again, its price tag of $129 is hard to beat. The Magellan Echo Smart Sports Watch is available from Magellan directly, or through retailers like Amazon, Best Buy, and RadioShack.