Handful of operators around the world will soon be selling the Google Nexus S
2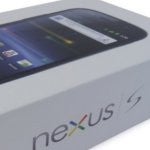 If you've been itching to experience all the new features surrounding Android 2.3 Gingerbread, then you're more than likely expected to pick up the Google Nexus S. However, it's not as easy as one would imagine since it's nearly impossible finding one outside of the US.
Not only is
Vodafone
going to be offering the highly prized smartphone shortly, but it appears that a
handful of carriers
around the world will be selling the device in the coming weeks. From the looks of it all, Vodafone & Phone House in Germany, Vodafone Australia, Swisscom from CHF49 in Switzerland, A1 in Austria, Vodafone Czech Republic, and SFR France are all in line to receive the handset. So if you happen to live in any of those regions, just make sure to follow those carriers closely to know when the highly anticipated Android 2.3 smartphone will be released.
With its imminent launch in a variety of markets, it'll undoubtedly be placed in the spotlight once again now that we're heading straight into MWC.
via
Samsung Hub