HTC One M8 leaks in a handful of new photos
51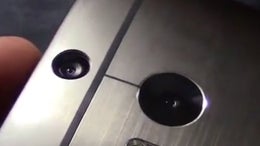 Half a month -- that's how much longer we'll have to wait until we see HTC's new flagship make it on the stage. Until then, we'll have to settle for intel that has managed to escape the Taiwanese manufacturer's labs.
Fortunately, we've had quite some stuff leak out, and that trend is on a rise. After an anonymous kid smashed any hopes HTC might have been harboring for keeping the All New One a secret in
a massive, 12-minutes hands-on peek into the flagship
, we've been growing more and more certain that what we're seeing is, indeed, the real deal. A bunch of snaps of a China Mobile-branded HTC One M8 reinforce that notion, as they show a device that is identical to the one we've been watching come out of every nook and cranny in the past few weeks.
Again, a two camera setup with a dual LED flash module is being confirmed, and judging by
the latest HTC teasers
, the company isn't even trying to deny it anymore. In any case, we're genuinely interested in testing what this kind of configuration can do, and we honestly can't wait until the 25th of March, which is when HTC will be officially christening its new flagship.