HP Opal gets reviewed, shows what a 7-inch TouchPad could have looked like
5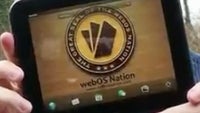 Remember the
HP Opal
? For those of you who don't, that was supposed to be the HP TouchPad's little brother, if you will – a 7-inch webOS tablet with looks and hardware similar to those of HP's bigger, 9.7-inch slate. Yet as soon as the company gave up on its webOS-powered hardware back in September, it became clear that the Opal was not going to ever see the light of day.
Nevertheless, the HP Opal, which was expected to be marketed as the HP TouchPad Go, has just gotten a review of its own. The guys at
webOS Nation
managed to get their hands on a prototype unit, probably identical to those that have been popping up on eBay recently, and took it for a spin around the block. And sure enough, they were far from disappointed with the tablet's performance.
While the Opal has a smaller, 7-inch display, it boasts the same 1024 by 768 resolution as the one found on the
HP TouchPad
, meaning that it offers a higher pixel density. Inside it ticks the same dual-core Qualcomm APQ8060 processor, but it is clocked higher at 1.5GHz. Besides, the HP Opal comes with a 5-megapixel rear camera while the TouchPad has only a front-facing 1.3-megapixel one. Last but not least, the 3G radio inside it compatible with AT&T's bands is a welcome addition.
At a glance, it seems like a reasonably priced HP Opal could have been a more successful of a product than the TouchPad, yet for better or for worse, the latter was chosen to launch first. The full review of the tablet is available at the source link below, so feel free to check it out if you are interested.