Great timing: Apple retail head John Browett's restricted stock award now worth $61 million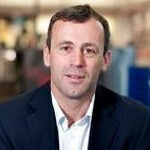 added $5 million to Browett's net worth
; the award is now valued at $61 million. The executive just can't call his broker and put in a sell order. The first 5,000 shares will vest on October 20th of this year while another 15,000 will vest on the one year anniversary of his first day at Apple which was April 20th. The remaining shares will vest in the amount of 20,000 every April 20th until the 100,000 total is reached. Browett's stock award was filed by Apple on SEC Form 3.
Browett came to Apple
from European retailer Dixons
. He replaced Ron Johnson who helped to start Apple's retailing business 11 years ago. Johnson left last fall
to become CEO of JC Penney
. And while many analysts questioned the fact that Browett was an Apple outsider, CEO Tim Cook said that after taking to many people,
Browett was considered "the best by far," of all potential hires
.
source:
MacRumors
via
AppleInsiders