Google shows developers how to offer extra pages for Android Wear notifications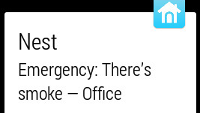 Android Wear is a version of the Android platform made expressly for, well, wearables. Google has informed developers that if their app features support for notification messages, it "
will generally just work on your new wearable
." But Google adds that with just a few lines of code, "
you can deliver even richer experiences on the wearable by using stacks, pages, and voice replies
."
In a video made for developers, it is explained that Google has added extra pages for notifications on a smartwatch, allowing users to swipe to the left or right to read the whole notification message. The code to add this to an app is displayed. While notifications will show up on an Android Wear device without it, users won't be able to read long messages. Each notification will also feature an icon showing its origin, which makes it a snap to see where the message came from.
You can check out the video from Google, and view examples of Android Wear notifications, all in the slideshow below.
source: Google (
1
), (
2
) via
Engadget