Google grabbed the most global media attention of any company in 2013
10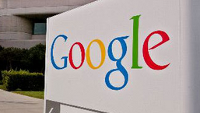 No less a media giant than Dow Jones crowned a new champion as the most mentioned company in the global media during 2013. According to the news service's DJX Factiva product, Google was mentioned by the global media a total of 123,769 times which beat out the 120,451 times that the global media printed the Apple name. For Apple, this was a 27% drop from its leading 2012 total of 165,100. It also was the lowest score for the Cupertino based firm since 2010 when Apple was listed 89,222 times.
Other names in the mobile industry include Microsoft, which was named 84,174 times. Sony finished the year with 46,468 mentions while Nokia had 29,935, RIM (now BlackBerry) tallied 29,638 and China Mobile managed 5,302.
Google's best month for publicity was May when it had 13,336 mentions in the global media, most likely due to Google I/O, which took place in that time period. Apple's press coverage peaked in September with 15,270 mentions in the global media, no doubt due to the widespread launch of the
Apple iPhone 5s
and
Apple iPhone 5c
.
source
DowJones
via
BGR