Google Nexus 4 in stock on T-Mobile's website; device is coming to Australia on February 1st
2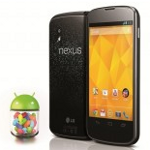 Google Nexus 4
, and are tired of seeing the device constantly sold out at the Google Play Store, we can direct your attention to the T-Mobile website where the device is available,
in stock
, and can be yours in 2 to 4 business days. You might recall that we told you on January 16th that
the phone would be made available online for the Nation's fourth largest carrier starting January 23rd
and a quick perusal of the carrier's website, followed by a phone call, confirmed that the smartphone can now be purchased.
The 16GB model is still $199.99 with a two-year pact, or $499 off-contract.
Meanwhile, LG has announced that on February 1st, the Google Nexus 4 will be available at Harvey Norman retail stores in Australia. The phone is priced at $496 AUD ($521.94 USD) off-contract, or you can pay as low as $35 AUD ($36.83 USD) to have the phone included with an Optus mobile plan. Pre-orders are being
accepted now
at the retailer's website. Last week,
the director of LG Mobile France, Cathy Robin, said that by mid-February, issues with supply should be a thing of the past for the Google Nexus 4
and the hope for the Korean manufacturer is that demand will remain just as strong then as it is at this moment.
"The Nexus 4 is a great example of how LG's state of the art hardware is innovating in the smartphone market with Google choosing to be its latest hardware partner. The response in Australia has been overwhelmingly positive on Google Play already, and we know our Harvey Norman partnership will create even greater demand."-Lambro Skropidis, General Marketing Manager, LG Australia.
source:
T-Mobile
,
HarveyNorman,
Ausdroid
via
AndroidCentral