LG exec says Google gave too cautious sales forecasts for the Nexus 4, supply issues to be resolved soon
20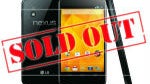 The director of LG Mobile France Cathy Robin finally shed some light on why there exist such severe shortages for the
Google Nexus 4
in all places, and shipments finish immediately after they go for sale.
It turns out that Google gave LG sales forecasts that were based on previous Nexus phone sales figures, which turned out to be significantly underestimating the actual demand. That's why LG redirected much fewer resources to the Nexus 4 production project beforehand, and is
now struggling to catch up
with all the orders.
It is not hard to deduce that Google has been conservative in its sales estimates, despite the predictable excitement that the price point for a top-notch handset immediately brought. The LG exec denied again the rumors of restricted Nexus 4 production, claiming the contrary - that LG is actually running the conveyor belts overtime now, and
by mid-February
there should be "
no more pressure
" on the Nexus 4 supply.
That is a month from now, so all that is left for us is to sit back and wait while LG and Google tread the uncharted production waters, while Cathy Robin reiterated that this little demand forecast incident hasn't strained its relationship with Google, and things between the two are going "very well." She also said that the rumored 375,000 units sold figure is much lower in reality.
On the price point, the LG exec said that the company is not selling the handset at a loss, but there is an internal agreement with Google to provide the Nexus 4 at a very attractive tag, perhaps in exchange for getting its foot in the Nexus family door.
The
Optimus G
was also mentioned, with the intent for the current flagship to go on sale in Europe soon, perhaps in sync with the MWC expo next month. As per niche handsets like the
Optimus Vu II
, the company has no plans to offer these to the Europeans, and is also cautious about Windows Phone 8 for now.