Galaxy S6 vs Galaxy S6 Edge: 6 ways they'll likely differ
7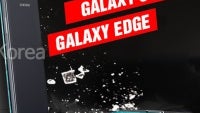 We have a pretty good reason to believe that Samsung will unveil two new flagship devices on March 1st – the Galaxy S6 and Galaxy S6 Edge. Indeed, while the S6 was something of a given, it wasn't until recently that we felt secure in the knowledge that the South Korean company is really prepping as special a version.
Based on the invite Samsung sent to the press
, however, we feel quite certain that a Galaxy S6 Edge is coming. But how does it differ from the standard S6?
To answer that question, we dug deep into our now massive trove of related leaks, all the while reflecting on Samsung's past behavior and the way it usually does things. This is of help, of course, but you should obviously keep in mind that nothing has been technically confirmed yet – these are educated guesses, not facts set in stone.
Disclaimers aside, we actually have more than a few guesses as to what the differences between the two devices will be. Jump right into the slideshow gallery below to find out what our best guess is.