FreedomPop's "free broadband" project is a WiMAX-ed iPhone case that gets you 1GB of monthly data
3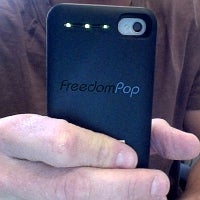 The wacky "free broadband" FreedomPop MVNO project of Skype's founder Niklas Zennstrom materialized in the funny form of an iPhone 4/4S case with a WiMAX radio in it (similar to the
ZTE Peel
), that's good for 30 hours on battery.
You get
1GB of free monthly data
with the case, and overages will run you ten bucks per each additional GB. Airwaves supplier is Clearwire, and, while its WiMAX coverage is less than stellar compared to what the big boys are offering, it still beats 3G speeds by a large margin. FreedomPop is allegedly talking with other carriers to come aboard, but nothing is in the certain yet, and it plans to move to LTE speeds when Clearwire has them.
The catch? You can't do voice calls over the cellular network with the case, and you have to allegedly dole out a $75 refundable deposit for it. The FreedomPop project hopes to make money off the kindness of your heart when you buy accompanying services, the types of which are still shrouded in mystery. The "freemium" service's intentions are that paying customers will subsidize the meager 1GB allotment to the stingy ones.