Fleksy for iOS, a popular third-party keyboard, drops the price tag, scores GIF and sticker improvements
2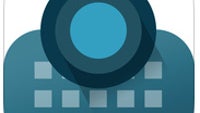 With the arrival of iOS 8, Apple's mobile OS gained support for third-party keyboards. Just as one might expect, an influx of third-party keyboards hit the App Store shortly after iOS 8 was live, and many of the popular Android ones got their iOS versions.
Among these is Fleksy, one of the more popular and notable ones. Ever since it appeared on Apple's online app repository, Fleksy has been normally donning a 0.99-dollar price tag, disregarding the occasions on which it has been available for free as a part of a short promotion.
Well, it was just announced that from now on, the third-party keyboard will be permanently available for free on the App Store, just like its Android variation. In order to make it up to those users who have already bought the app, Fleksy will give away 8 bucks' worth of themes and extensions.
Apart from the pricing change, Fleksy for iOS has also received improved GIF and sticker support, allowing users to send animated or customized images more easily. A new feature dubbed "Highlight" allows Fleksy fans to search for relevant GIFs and stickers by looking for certain hashtag keywords.
Download: Fleksy (
iOS
|
Android
)
via:
MacRumors