Fitness is the word to describe this coming week's T-Mobile Tuesday
0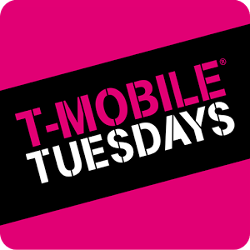 Out of shape? Need to do some more reps lifting your handset to your ear? T-Mobile hears you. This week's T-Mobile Tuesday contest prizes includes five Grand Prizes. Each one contains a one-year membership to a Crunch gym and a $520 check that can be used to pay for taxes or miscellaneous expenses. Fifty First-Prize winners will score a free duffle-bag containing a one week supply of protein powder, a shaker bottle, the following workout DVDs/books:
Men's Health Riptensity
,
Men's Health Body Weight Burners
,
Women's Health Big Book of Pilates
,
Women's Health Tone Up Workout
, and
New Rules of Lifting for Women
. And most importantly, the bag includes a towel.
Two Hundred Second Prize winners will get free Spartacus workout DVDs called
Body Weight Revolution
,
Total Body Blitz
and
Triple Set Scorcher
. Overall, the contest will have 255 prize awards valued at $26,730.50.
Now that your phone muscles are all buffed up, this coming Tuesday's give-aways include a $25 coupon for use with any of the 62,000 restaurants listed on Restaurant.com. In addition, T-Mobile subscribers will get a free DVD, Blu-ray or game rental for one-day from Redbox. For those T-Mobile customers who require additional battery capacity for their phone, this Tuesday you can take 25% off the purchase of any Mophie product. Lastly, this Tuesday will start a free 1-year (or 10-issue) subscription to
Men's Health
or
Woman's Health
.
Another good haul for T-Mobile subscribers starts in days. And with any luck at all, you could score one of the contest prizes. Good Luck!
Free give-aways and contest prizes for this coming week's T-Mobile Tuesday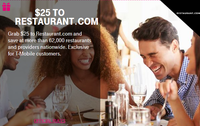 source: T-Mobile