Fitbit Aria Wi-Fi Smart Scale works with your smartphone to motivate you to lose weight
1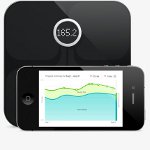 For those of you that are big into being physically fit, you'reprobably aware about the Fitbit tracker, which is a pint-sized Bluetooth device thattracks your fitness routines – allowing you to monitor your progress orregression. Well folks, if you want to take the next step, then you ought tocheck out the now available Fitbit Aria Wi-Fi Smart Scale.
Now this isn't your ordinary weight scale, oh no, butinstead, it's already standing out for being a digital one for starters. Asidefrom the obvious, the Fitbit Aria actually tracks pertinent fitness informationsuch as weight, body mass index, and body fat percentage for up to eight users – allowingyou to see how you're keeping up with your goals and promises.
In fact, the data collected by it is sent into to an onlinedatabase through Fitbit's web site, thus, allowing you to access theinformation through an iOS or Android app as well. If you're courageous aboutsharing such personal information, there are some social networking aspects withit – such as giving you the option to tweet your weight to the whole world.
Ultimately, the aim with the Fitbit Aria is to "motivate"users to lose weight by providing badges after obtaining specific goals. Therefore,if you're up for the challenge, or simply require something that will visuallytell you where you're at, then you ought to check out the Fitbit Aria. Rightnow, you can pick up the Fitbit Aria Wi-Fi Smart Scale for $130, while theFitbit tracker can be purchased separately for $100. Oh yeah, if you'reparticular with color, it's available in either black or white.
source: Fitbit via Electronista