FCC chairman Pai reveals his plan to auction three bands of millimeter-wave spectrum in 2019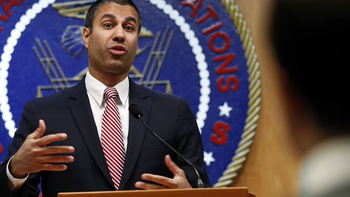 FCC chairman Ajit Pai has announced his plan for the agency's auction of 5G spectrum next year. Pai says that he wants to hold an auction in the second half of 2019 to sell off millimeter-wave spectrum in the 37, 39 and 47 GHz bands. While the FCC will decide at its meeting next month exactly how to proceed, some wireless carriers like T-Mobile made it clear earlier this year, that they would prefer a single auction in 2018 that added the 24GHz and 29GHz bands to the trio previously mentioned.
Pai also noted that he hopes to have the 37, 39 and 47GHz bands offered in 100MHz blocks to make it easier for the bands to be auctioned together. In addition, Pai plans to propose a clean up for the 39GHz band to make it more attractive for bidders. Incumbent licenses will be consolidated into "usable blocks."
At its August meeting, the FCC will finalize the rules of its November auction of 28GHz spectrum, which will be followed by the auction of airwaves in the 24GHz band. Pai says that bidding will start on November 14th this year.
"Leading off our August agenda will be 5G, the next generation of wireless connectivity. We'll finalize the rules for the auction of airwaves in the 28 GHz band and the auction of the 24 GHz band, which will follow immediately afterward. One of the game-changers for 5G is that new technologies have made it possible to use millimeter-wave spectrum for mobile broadband. With so many wanting so much spectrum for 5G, we're moving as quickly as possible to make these bands available for commercial use. Adopting these rules will pave the way for auctioning these 5G-critical airwaves and allow us to start the bidding on November 14."-Ajit Pai, chairman, FCC
The FCC chairman also assigned to Commissioner Carr the task to find ways that the FCC can promote connected care. Pai said that one reason why it is important for all Americans to have access to high-speed internet is due to its potential to improve the health-care system in the U.S.
Recommended Stories