Dropbox gets two new important features on the iPhone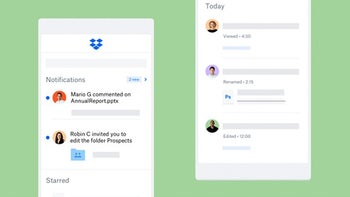 Dropbox
is getting better on the iOS platform, so if you have an iPhone you can go ahead and fire up the app and check out some of the new features that have been added today. Improvements to the file activity and file preview design are the main highlights of the most recent update released by the team behind Dropbox.
After delivering drag and drop support last month, Dropbox is now bringing enhancements to file activity so that when users preview a file directly in the app, one tap will pull up a list of events, including edits, shares, and – for Dropbox Professional and Business Advanced users – viewer history.
Another major change included in the update is related to the file preview design, which has been further streamlined to offer a much better viewing experience. With the latest version of
Dropbox
, users will be able to easily comment right alongside their content.
Also, at the bottom of any file preview, Dropbox users will be able to access teammates' feedback, add their own feedback, as well as receive file activity updates. Both new features are being rolled out today, but they might not reach all regions at the same time, so give it some time if the update is not available in your country yet.