Display Brightness for Wear solves your smartwatch's lack of ambient light sensor problem
2

| | |
| --- | --- |
| Developer: Daniel Velazco | Download: Android |
| Genre: Lifestyle | Price: Free |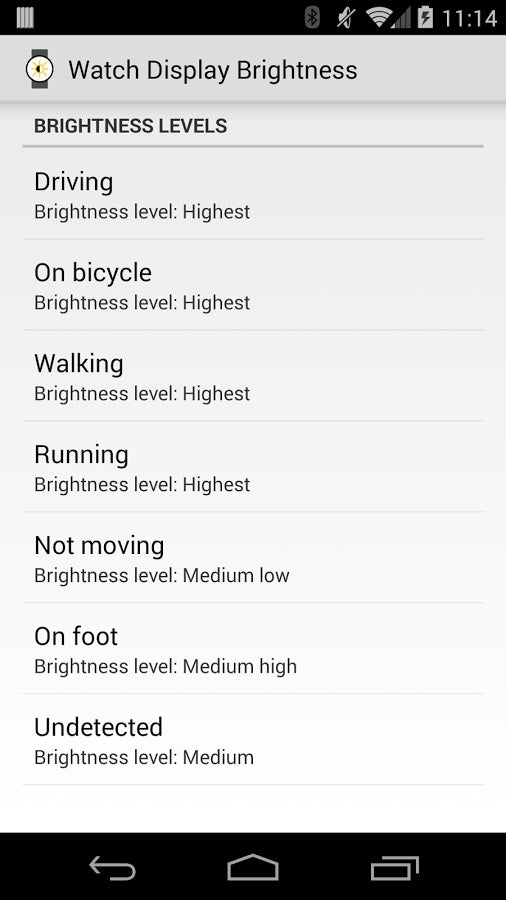 Smartwatches have a fever - most of the time, their tiny displays look too bright, or too dim - and the only prescription is an ambient light sensor. So far, only the Moto 360 ships with one. The rest of the time-telling, notifications-serving pack does a lot of things right, but the lack of this essential component compromises the experience.
Until more manufacturers find ways to integrate the technology inside the space-starved smartwatch encasement, you'll have to rely on solutions like Display Brightness for Wear to get by. This is an app that runs on your Android device and uses timing and GPS data to detect the time of the day, pair it with your activities, and adjust the smartwatch screen's brightness accordingly. There's no gradual adjustment, just levels anywhere between Lowest and Highest.
However, you have the freedom to set a brightness level for each occasion. You can set it to Highest while you're driving, walking, running, or riding a bike. And you can have it set to medium while your activity is undetected. The app will automatically shift the brightness to Lowest at night, or when it assumes you've entered an indoor space.
The little app is free and can be downloaded from the Google Play store.