Disney shows off MagicBand wearable device for park guests
5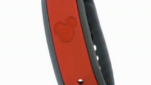 With all of the talk about wearable devices like Google Glass and smartwatches becoming a $6 billion business, this is no
Mickey Mouse
market. Or maybe it is. The Chairman of Disney Parks and Resorts, Thomas Staggs, appeared at D11 on Wednesday and showed off Disney's own wearable device that park guests can use to eliminate paper tickets. Watch the video below and you'll hear
The Incredible's
Edna Mode give a shout out to Google Glass and Sergey Brin.
The
MagicBand
, which will be available this year, allows Disney guests to enter the park, make purchases and open the door to your Disney hotel room. It is like wearing your park tickets, a credit card and hotel key on your wrist. The MagicBand is just one part of the My Magic Plus experience which allows you to arrange your favorite things at the Disney parks and resorts prior to your trip, including dinner reservations. This is done through a new web site and app called My Disney Experience. The app will allow users to select three Fast Pass times before even arriving at the park, and arrange for VIP seating at fireworks, parades and character appearances.
Disney, as usual, has outdone itself. If you opt in, the MagicBand can contain information like the wearer's name and birthday. Hidden sensors that only Disney cast members can view, could lead to an exchange where Cinderella turns to a little girl and without prompting, says "Happy Birthday Audrey". Imagine the good will that Disney can build with this technology. The kid will never be the same and the parents will always remember the moment.
Guests to the parks will
not be forced
to wear the MagicBand and those that do use it can control the amount of personal information they decide to give up.
source:
AllThingsD