Deal: Microsoft Surface Pro 6 is up to $300 off on Amazon (multiple models)
We may earn a commission if you make a purchase from the links on this page.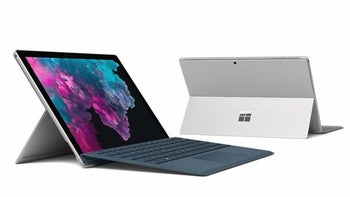 Microsoft newest
Surface Pro
2-in-1 laptop is getting massive discounts on Amazon, but none of the deals includes any accessories. If you want a brand new device that you can use as a laptop, you should definitely try to buy a keyboard for the Microsoft Surface Pro 6.
However, if you just need a tablet that you can occasionally use as a laptop, the Surface Pro 6 doesn't need extra accessories. Now, choosing the right model might be a bit complicated since the Surface Pro 6 comes in different variations based on the chipset and amount of memory.
Amazon has both the Intel Core i5 and Intel Core i7 on sale, but then you'll have to choose the memory configuration: 8GB RAM/128GB storage, 8GB RAM/256GB storage, 16GB RAM/512GB storage, and 16GB RAM/1TB.
Each of these Surface Pro 6 has been discounted at Amazon, so make sure to check them all out to see how much you'll be able to save. From what we've been able to learn, it appears that you can save up to $300 on Microsoft's Surface Pro 6, but the discount depends on the model you choose to buy.
Keep in mind that the price is for the Microsoft Surface Pro 6 alone without any accessories. You can buy the Surface Pen, mouse, and type covers separately directly from Microsoft. A tip for those who already own an older Surface Pro device: all keyboards from any version of the Surface Pro are compatible with the
Surface Pro 6
.