Deal: Amazon Kindle e-readers and Fire tablets now available at discounted prices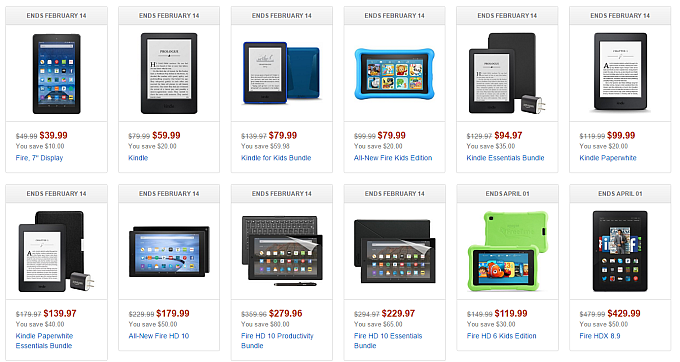 If you were planning to purchase an Amazon Kindle e-reader or a Fire tablet, now would be the perfect time for it. For a limited time starting today, the online retailer is now offering its slabs and e-readers at significantly reduced prices.
The 7-inch Amazon Fire, which usually retails for $50, is now available at $40. The tablet may not offer a crisp multimedia experience or satisfying performance in 3D-intensive games, but the Amazon Fire 7 is a tablet that suffices for basic tasks such as web browsing or viewing movies. As such, $40 is a very tempting price if you're looking for a basic tablet.
Those looking for a better display and speedier internal hardware might be interested in the
Kindle Fire HDX 8.9
, now available at $430 ($50 off), or the Fire HD 10, currently available at $180 ($50 off). Amazon's Fire for Kids tablet is also offered at a discount and will now set you back $80 ($20 off).
Those with a passion for the written word will probably want to check out Amazon's discounted e-readers. The 7th-generation Wi-Fi only Kindle Paperwhite is currently priced at $100 (a $20 discount) while the 3G version of the 6th-gen Paperwhite will only set you back $140 (a $40 discount). For the duration of this promotion, the basic Kindle e-reader is priced at $60, or $20 off the usual retail price.
Amazon is also offering numerous bundles at reduced prices, so head on over to the source link below for the full details.
This promotion is only available in the US and most of the discounts will expire on February 14th. The discounts on the 3G Paperwhite and the Fire HDX 8.9 will run until April 1st.