Save 40% on this 20,100mAh mophie power bank with built-in Lightning/USB-C cables, deal ends today!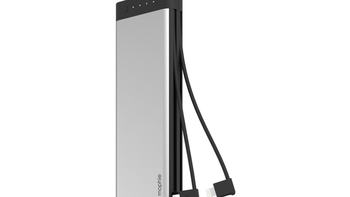 | Product | Location | Item Condition | Price | Deal ends in |
| --- | --- | --- | --- | --- |
| mophie 20,100mAh power bank w/ built-in micro-USB and Lightning/USB-C cables | B&H Photo Video | New | $50 -> $29.99 | 17 hours |
If you're looking for a high-quality power bank that comes with built-in charging cables for added convenience, you should check out B&H's daily deal. The retailer is offering a 20,100mAh mophie portable charger that features a micro-USB and either a Lightning or USB-C cables at a great discount.
This item sells for $50 on Amazon, but if you buy one through B&H, you can save $20 or around 40% off its usual price. Furthermore, Amazon does not appear to offer the model with a built-in Lightning cable, which costs $19 as a separate purchase at the Apple Store.
Fast charging is also on board, with both the Lightning and USB-C models featuring an output of up to 3.6V/15W. The power bank is built from high-quality billet aluminum and has a sleek design. Shipping is free, and the item comes with a standard 1-year warranty.
If this deal interests you, feel free to follow the above link to B&H. The sale will end in 17 hours from the time of writing, so it's advisable to act fast.