Craigslist launches official iPhone app... 11 years after the launch of the iPhone
5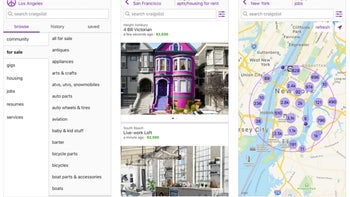 It's finally here: the official Craigslist app for iPhone has arrived on the Apple App Store.
And yes, it took Craigslist all of 11 years since the launch of the App Store to finally come up with an official app, but it's here and it is just as retro looking as the website. And nope, don't expect to see the casual encounters section that Craigslist deleted on the website a few years ago.
But it sure gets the job done. It's simple, it's not complicated.
And in case you have not used it recently, here is what Craigslist is good for:
Buy & sell furniture, household items, electronics, computers, clothing, bikes, art, any and all kinds of used items.

Activity partners, artists & musicians, pets for rehoming, local events.

Save your favorite postings for later, save searches, set search alerts.

Post, edit, renew your own ads.
Users also seem to be quite happy with the app and so far it has a 4.6 out of 5 stars rating. It's free and you can check it out right below: