Cordy 2 arrives on iOS and Android
1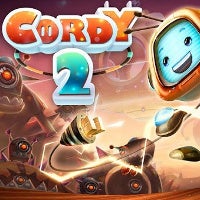 If Mario and Sonic started the platformer game genre, Cordy is a brilliant iteration on the proven model, and now Cordy 2 has arrived on iPhone, iPad and Android. With amazing graphics running at a solid 60fps on most modern devices, Cordy 2 strikes the right balance between fun and complexity.
In it, you control Cordy, your character on a mission to save the world. Despite using on-screen controls that are usually clunky, Cordy 2 is actually very easy to play so the whole navigation is very fluid. Besides the traditional left, right and jump button, there is a fourth contextual button that appears whenever Cordy can do something special and is hidden at all other times.
The game comes with four free to play levels and the download is also free, but you'd need to pay for additional gameplay and that's a $4.99 purchase for the total 48 levels.
source:
Cordy