Consumer Reports gives its blessing to the iPhone 4S now as "antenna-gate" is solved
29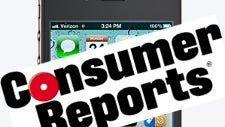 Nearly two years after the iPhone fell from grace in Consumer Reports eyes, the voice of the Consumers Union has spoken and the iPhone is now blessed as officially recommended to the vast American public.
The last iPhone the magazine recommended was the iPhone 3GS back in 2009. Then however the iPhone 4 came and while it did indeed become Apple's most successful handset, Consumer Reports couldn't overlook the "antenna-gate" scandal, which would sometimes lead to dropped calls and generally a decrease in signal reception.
The Verizon iPhone 4 was the first to address the issue with slightly moved antennas, but the real fix came only recently with the iPhone 4S. The new iPhone comes with two antennas and smartly switches between them to ultimately offer superior calling quality. Here are Consumer Reports findings:
In special reception tests of the iPhone 4S that duplicated those we did on the iPhone 4, the newer phone did not display the same reception flaw, which involves a loss of signal strength when you touch a spot on the phone's lower left side while you're in an area with a weak signal. (The iPhone 4, which is still available, continues to exhibit that problem, we confirmed in tests of new samples of the phone. Because of the flaw, we continue to omit the iPhone 4 from our list of recommended models, despite its otherwise fine performance.)
The magazine however still ranks Android phones like the Samsung Galaxy S II, the Motorola DROID BIONIC and several others higher in its listings by virtue of their support for 4G LTE or other novelties like 3D cameras.