China copies National Geographic, divides a sidewalk in half for cellphone users
26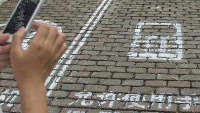 You might recall that back in July, we told you about a sidewalk in Washington D.C.
that was separated into two halves
. One half of the concrete was reserved for those who walk while looking down at a cellphone, while the other half was for those concentrating on getting from point "A" to point "B". The cellphone side of the street was sub-divided for talkers and texters.
The whole thing was done as a social experiment by National Geographic Channel for a television show. But the idea apparently piqued the interest of someone in China. In the city of Chongqing, a street known as "Foreigner Street" (not named after the rock band, we're sure) was similarly divided.
The city, one of the five largest in China, might run into the same problem that those in Washington D.C. had to deal with. Those looking down at their cellphone were so engrossed in what they were doing, many never even noticed the directions painted onto the walkway.
source:
News.qq
via
Engadget