Boost's Samsung Galaxy Prevail is rumored to make an appearance at an NYC event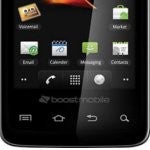 Both Samsung and Boost Mobile are hosting a
special event in New York City on April 5th
, and seeing the tandem working congruently with each other on this event, it raises some eyebrows on what they have planned. Reports indicated that they'll be announcing, and most likely showcasing, Boost Mobile's upcoming Android powered smartphone – the
Samsung Galaxy Prevail
.
Specs are still quaint at this point, however, it's alleged to be a handset that closely resembles the Samsung Transform – but without a keyboard. This would complement Boost's sole Android device on their lineup, the Motorola i1, while the
leaked rendered image
might point to a display that's less that 4-inches in size. More than likely propped to be a
low to mid-range device
, the Samsung Galaxy Prevail is also reported to be equipped with a
3.2
-megapixel camera and powered by Froyo.
With April 5th literally right around the corner, we'll find out exactly what's brewing at Samsung and Boost Mobile's event in New York City.
via
Pocketnow