BlackBerry re-enters the South Korean market armed with the $530 Priv
69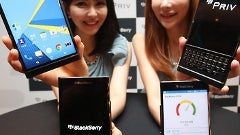 Having left the South Korean consumer hardware market three years ago, BlackBerry has decided to re-enter with the launch of its
Android-powered Priv handset
. Even though the decision seems a quizzical one -- Korea is dominated by local brands such as Samsung and LG -- John Chen apparently sees some value in rolling out a device that is now
almost a year old
.
Where the Priv has almost completed the assumed one-year life cycle since it was first showcased, it's now much cheaper than it once was. The Canadian firm wanted
a whopping $749 for the Priv initially
, and while the price has dropped considerably since, BlackBerry's 598,000 won ($534) asking price in Korea still seems incredibly steep.
Making the Priv available to such a tech-savvy demographic can perhaps be considered as a positive. Even so, it's seemingly doubtful that consumers will rush to pick up an ageing handset from BlackBerry given the many local options with generally better reviews.
As a refresher, the Priv packs a 5.4-inch 1440 x 2560 display, Qualcomm's Snapdragon 808 and 3 GB RAM,
among other treats
. You can check out our full review of the device
here
, and be sure to have your say on this story via the comment section.