BlackBerry Q10 demo videos released
8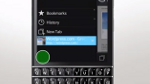 BlackBerry has just released some videos designed to teach users of the
BlackBerry Q10
how to use the QWERTY equipped device. Many fans have been waiting for the release of this model because of the
physical QWERTY
on the phone, a feature that BlackBerry has been known for going back to its roots as a two-way business communication device.
The 2008 launch of the
BlackBerry Bold 9000
took the mystique of the BlackBerry QWERTY up another notch with a keyboard that some hard core users say, has never been topped. Others say that the more recent
BlackBerry Bold 9900
/
9930
beat out the QWERTY on the original Bold. Regardless of which one you think is best, BlackBerry has been looking to take the physical QWERTY on the Q10 to another level.
The 2GB of RAM on the BlackBerry Q10 is a multitasker's best friend. While the
BlackBerry Z10
also includes 2GB of RAM, the QWERTY equipped device features a larger
2100mAh battery
than the 1800mAh cell on the "all-touch" Z10. This could means that despite BlackBerry CEO Thorsten Hein's insistence that the all-touch BlackBerry Z10 was released first to staunch the firm's bleeding of market share in the BYOD market, the Q10 is designed to be more of a business tool than the first BB10 handset.
We've selected a couple of the new BlackBerry Q10 from BlackBerry's YouTube channel for you to take a look at. Not only will it show Q10 users how to run some of the features on the phone, those with a different device might find themselves longing for the handset after viewing the videos.
source:
BlackBerry
via
Clove
Recommended Stories