BlackBerry Launcher update allows users to swipe down from any blank spot on the screen to see notifications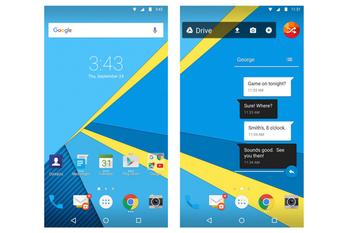 BlackBerry has released an update to the BlackBerry Launcher app, featuring an interesting twist in the way that Android users can view their notifications. With the update, swiping down from any blank spot on the home screen allows a user to view the notification tray and take action on any of them. This means that Android users with the BlackBerry Launcher won't have to scroll down from the top of their screens to see their notifications.
Any Android user can install the BlackBerry Launcher app and use it free for 30 days. Once that time period is up, the app still can be used, albeit with in-app ads. Paying 99 cents a month for the BlackBerry Hub+ app allows the use of the BlackBerry Launcher app without ads. Owners of BlackBerry devices that run on Android can install and use the Hub+ app (which includes Launcher) for free.
The Launcher also allows users to open an app's widget by swiping across its icon on the home screen. With BlackBerry Launcher, users can also email or call a friend with a single tap, and setup home screen shortcuts to add contacts, calendar events and more.

If you are interested in the BlackBerry Launcher, you can install the app from the Google Play Store. All you need to do is tap on the sourcelink below. The new version is 1.1.11.9704, and it is compatible with devices running Android 5.0 and higher.