BlackBerries to get PlayBook interface?
2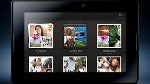 It's not that we don't likeBlackBerry's OS interface, in fact we do appreciate its utilitarianapproach to looks, but we have to admit we would like to see somemore juice and flavor as we are about to see on theBlackBerry PlayBook. RIM co-CEO Jim Balsillieimplied that this is about to happen in the near future at the Web2.0 Summit.
He did not give a detailed timeline andthe PlayBook is coming out in Q1 of next year so we will have to waitto see this happen. The 'professional tablet' will feature the QNX-based BlackBerry Tablet OS as opposed to all other handsetspowered by the BlackBerry OS. It will have a hard time attractingdevelopers but it does look attractive with a card multitaskingswitcher a la WebOS and of course many familiar elements fromBlackBerry OS 6.
However, RIM's market share hit adownward slope in the last months and this could put the Canadiansback on their feet. In any case, for the time being the only thing wecould do is anticipate.
source: Yahoo!News