Black Friday Deal: get the Nvidia Shield Android TV starting at $149.99 with a free Shield Remote
6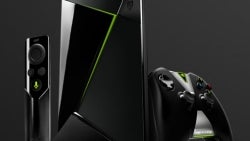 If you were thinking about taking the Android gaming experience to the big screen, Nvidia has just announced a sweet Black Friday 2015 deal for its Shield Android TV set-top box.
Currently, Nvidia is offering a free Shield Remote, usually priced at $50, with the purchase of its Tegra X1-powered Shield Android TV. That's already a neat deal, but if you're willing to wait until this Friday, you'll be able to get the Shield Android TV for $50 off the regular price, while still getting your hands on that free Shield Remote.
The price reduction can be applied to both internal storage variants, meaning that the price of the base 16GB model will be lowered to $149.99. The Shield TV Pro, which comes with 500GB of integrated storage, will set you back $249.99.
To take advantage of this offer, you'll have to purchase an Nvidia Shield Android TV this Friday from one of the participating retailers such as Best Buy. GameStop, Fry's, Canada Computers, or Micro Center. The deal will only be available in physical stores starting with Thursday, November 26, and will last until Saturday, November 28. Next Monday, the deal will migrate to the online storefront.
Aside from this deal on the Shield Android TV, Nvidia will also throw in several other price cuts. The Saints Row and Metro gaming series from Deep Silver will be offered at 75% off through the Nvidia GeForce Now game streaming service. Furthermore, games made for the Nvidia Shield lineup, such as Contrast, Doom 3, Half Life 2, Portal, Pix the Cat, and Q.U.B.E.: Director's Cut, will be discounted at 50% of the usual price on Google Play.
For more details on Nvidia's Black Friday 2015 deals, head on over to the source link below!