Best tablets for kids (updated August 2021)
4
We may earn a commission if you make a purchase from the links on this page.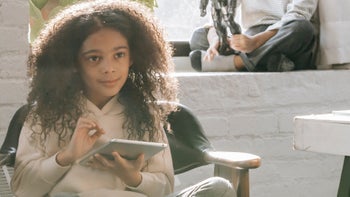 Tablets are a great tool for both entertainment and education, making them a perfect gift for a child, especially if they are too young for a smartphone yet. But if they are ready for a phone, you may also find our
best phones for kids
article helpful!
In any case, here we'll take a look at suitable tablets for kids, while taking screen size, budget, and gaming capabilities in consideration. From strong performers for mobile gaming, to the cheapest ones that are still good enough for being a child's Netflix, Disney+ or YouTube watching machine – we have the best tablets for kids right here.
Best tablets for kids on this list:
Best small tablets for kids
Small tablets are easier to hold, lighter and cheaper than their big-screen counterparts, and are comparable to a large smartphone, but without the phone calling capabilities. If a smaller size is important to you or your child, below are some suitable devices to choose from.
Samsung Galaxy Tab A7
When it comes to cheap and not too big
Samsung
tablets for kids, a good pick would be Samsung's Galaxy Tab A7.
The Galaxy Tab A7 is well suited for basic entertainment, such as streaming movies or YouTube videos and playing light games, and has a modern, attractive curved-
edge
design. In addition to all that, it's perfect for reading.
The device also supports Samsung Kids, a feature that lets parents create a safe online environment for their children, in addition to providing other useful parental controls such as the option to set a play time limit or see the tablet's daily usage statistics.
Apple iPad mini 5
Important:
Hold on there! We are expecting a new iPad mini model to be announced really soon! In September, 2021 that is. This means new design and new chip inside, which should translate to a tablet that can last some extra years further down the line. So, if you can wait a month and see if the iPad mini 6 comes to life — we recommend you do so.
If looking for raw power in a tiny package, almost nothing on this list beats the A12 Bionic chip inside the iPad Mini 5, a tablet that is capable of playing any mobile game at high settings flawlessly.
Sporting a 7.9-inch display and weighing just about 300 grams, in addition to supporting the (first-generation)
Apple Pencil
, the iPad Mini 5 could be a child's perfect tablet for watching videos or for doing school work and taking online classes.
Apple
also includes parental controls on its devices, letting parents set content and privacy restrictions, as well as daily screen time limits. In addition to that, parents of gamers may be interested in an Apple Arcade subscription, which allows for access to hundreds of ad-free games.
Apple iPad mini (2021)
Unreleased
We have no official word on a new iPad mini, but the rumor mill is going crazy with news on how it's going to be redesigned and how it'll be powered by an Apple A14 chip. Essentially, it's expected to be just like an
iPad Air (2020)
, just smaller. If that is so — it'll be a great tablet for bedside reading, kid's gaming, or to put in a backpack and fully expect it to be fast and snappy over the next 5 years.
Apple iPad 10.2 (2020)
Arguably the overall best tablet on this list, the 2020 iPad 8 is a powerful, affordable 10.2-inch option perfect for entertainment and even education, thanks to its support for the first-generation Apple Pencil, as well as a perfectly suitable gaming tablet.
Despite its low cost, it runs popular games such as Fortnite, Minecraft, PubG Mobile and Call of Duty: Mobile on mid to high settings with no problems.
If size isn't an issue, as it's quite a large device, and weighs 483 grams, about as much as two large phones put together, this iPad may be the best match for most uses and users, and the best bang for your buck on this list.
Like with the iPad Mini 5, parental controls are available, as well the option for an Apple Arcade subscription.
Fire HD 8 and 10 Kids Edition
Amazon's super affordable 8-inch tablet features easy-to-use parental controls, and with an optional subscription to Amazon FreeTime Unlimited, kids can enjoy over 20,000 kid-friendly titles, including books, games, educational apps, movies, TV shows and more.
Instead of the usual Android, Amazon's Fire tablets run on Fire OS, which is based on Android, but has a more user-friendly UI and its own app store. This particular offer includes two kids tablets for a very low price.
Onn. 10.1" Tablet Pro
Walmart has its own brand of highly affordable tablets, with the onn. 10.1" Tablet Pro featuring decent specs for its highly competitive price.
With 3GB of RAM, 32GB of storage and Android 10 on board, it's a suitable device for watching online entertainment and light gaming. Also, Android 10 comes with handy parental control features built into its Digital Wellbeing settings app.
Best gaming tablets for kids
When it comes to quality mobile gaming, the options available are expectedly more pricey, as tablets need to pack the flagship specifications required for running heavy games at their highest quality settings.
Samsung Galaxy Tab S7
A step below the top-tier Tab S7+, the Tab S7 features a large, gorgeous 11-inch LCD display and excels in both work and play. Its included S Pen makes it a great writing and drawing tool, while its support for Samsung DeX and keyboard cases can easily turn it into a computer replacement.
As its price suggests, it's also packing strong internals, making it well capable of playing all trendy games at high graphics settings. In addition, this tablet's generous storage options are easily going to fit plenty of large console-quality games, along with many movies, music and anything else.
As previously mentioned, Samsung devices also support Samsung Kids, which features a plethora of useful parental controls.
Apple iPad Air (2020)
The 4th generation iPad Air has been called an "iPad Pro killer" by many, for good reason. It takes all the things that make the
iPad Pro
a powerful and diversified tool — keyboard and Pencil support, powerful hardware, all-screen design — and cuts some corners to offer them in a more affordable package.
The Apple A14 chip is powerful and has plenty of headroom to run anything on the App Store for some years to come.
With Notes and iCloud sync, taking notes in class is easy, and with support for DualShock and Xbox controllers — playtime is on. iPad OS has the ScreenTime perk, which opens it up for parental controls, there's access to Apple Arcade and AppleTV+, of course, and pretty much anything else in the iOS ecosystem is opened up for exploration.