Best smartphone cameras compared: Galaxy Note 7 vs iPhone 6s Plus, Galaxy S7 edge, HTC 10, LG G5, OnePlus 3
66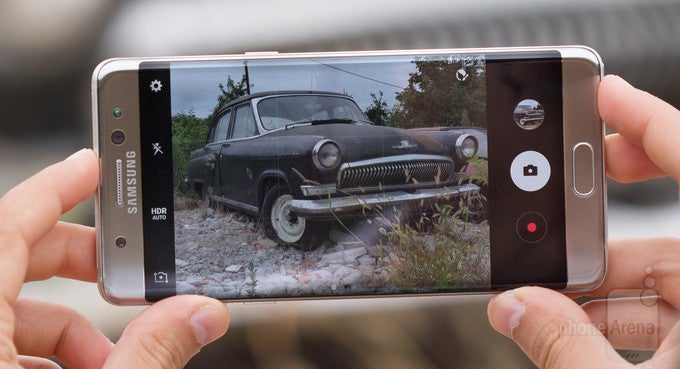 Guys, you are never going to believe what happened to me last evening! As I was walking the pup, a blindingly bright beam of light shot down from the sky. Then a magical creature – half griffin, half centaur – descended and placed a gilded box in my hands.
"Use it wisely"
, it said. In the box was a
Samsung Galaxy Note 7
, along with its charging cable and accessories. I was on the verge of giving it back because it wasn't the Coral Blue model, but then I realized that even a Silver Note 7 would do if I wanted to do a camera comparison.

Okay, I might have made up the entire story, but the part about the Samsung Galaxy Note 7 was legit. There's already a unit in residence at the office, and we've been playing with it for the past week or so. During that time, we put the phone through our battery test, we ran a set of benchmarks on it, and we measured the various quality aspects of its display. You know, the usual stuff. We also shot a bunch of photos to compare its camera against those of 5 other high-ends.
For this demonstration of photographic prowess, we've chosen to pit the Samsung Galaxy Note 7 against the
Galaxy S7 edge
, the
iPhone 6s Plus
, the
HTC 10
, the
LG G5
, and the
OnePlus 3
. Here's what these six phones have to offer in terms of camera specs:
Camera Specs
Galaxy
Note 7
iPhone 6s
Plus
Galaxy
S7 edge
HTC 10
LG G5
OnePlus 3
Resolution,
aspect ratio
12MP@4:3
4032x3024px
12MP@4:3
4032x3024px
12MP@4:3
4032x3024px
12MP@4:3
4000x3000px
16MP@16:9
5312x2988px
16MP@4:3
4640x3480px
Sensor and
pixel size
1/2.5"
1.4μm
1/3"
1.22μm
1/2.5"
1.4μm
1/2.3"
1.55μm
1/2.6"
1.12μm
1/2.8"
1.12μm
Focal length
and aperture
26mm
F1.7
29mm
F2.2
26mm
F1.7
26mm
F1.8
28mm
F1.8
29mm
F2.0
Focus and
stabilization
Dual-pixel AF
Object track
OIS
PDAF
OIS
Dual-pixel AF
Object track
OIS
Laser AF
OIS
Laser AF
OIS
PDAF
OIS
Looking at specs alone, several peculiarities stand out right away. One is that the cameras on the Galaxy Note 7 and S7 edge are practically identical, meaning that their photos should look more or less the same. Another is that the two have the widest apertures – F1.7 – which should prove beneficial in low-light situations. The HTC 10, on the other hand, has the largest sensor and pixels, which is always a good thing. Then there are the LG G5 and the OnePlus 3, both of which pack more megapixels than the rest of the gang. Indeed, this camera comparison will be fun!
Before we proceed, however, we must make one thing clear. We decided to leave the phones' HDR feature on Auto for this camera comparison instead of manually turning it off. The reason is simple – that's how all phones come pre-configured out of the box, and that's how most people will end up using them. Now let's look at some actual photos.
The slideshow galleries below contain full-resolution photos which might take a few moments to load.
Scene 1: The Opera House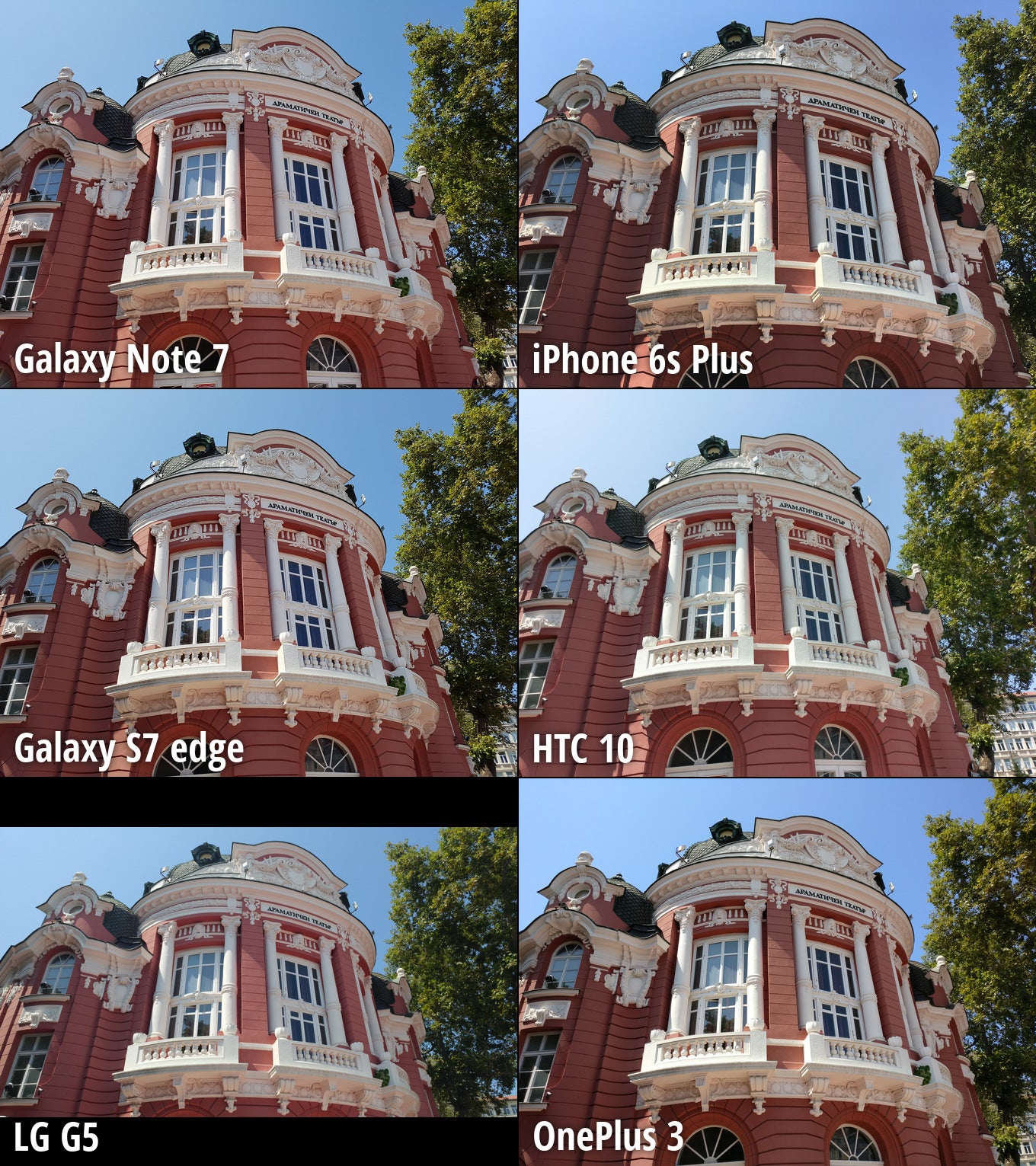 Like we stated above, the cameras on the
Galaxy Note 7
and
Galaxy S7 edge
are pretty much identical. Hence, it comes as no surprise that their photos look more or less the same – detailed, colorful, with an ample amount of sharpness applied to them. But it is worth noting that the Galaxy Note 7 has added less sharpness to the image. That's a sign of hope, as recent Galaxies tend to sharpen images too aggressively – something we've pointed out on multiple occasions in the past.
As far as ranking goes, we're finding it hard to pick a favorite in this scene. All images have come out quite nicely, with only minor differences in color balance, exposure, and sharpening setting them apart – differences that don't necessarily make one photo more pleasant to look at than the other. Except for the image we took with the
LG G5
. For some reason, it lacks the fine details we've come to expect upon zooming in. Weird. Let's hope that's just an isolated case.
Scene 1: score
Samsung Galaxy Note 7
8.0
Samsung Galaxy S7 edge
8.0
iPhone 6s Plus
8.0
HTC 10
8.0
OnePlus 3
8.0
LG G5
6.0
Scene 2: The Garden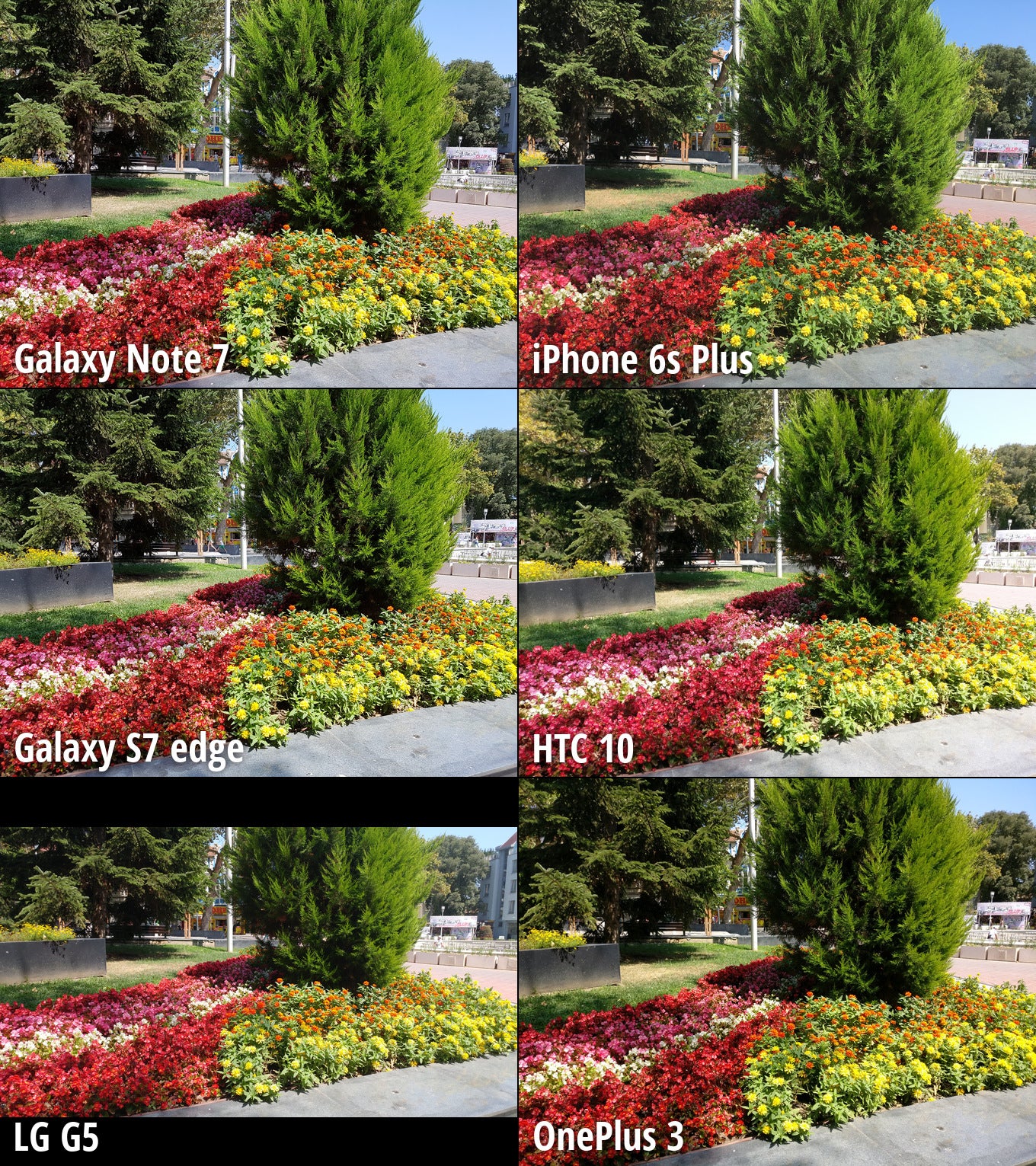 Bright sunlight and bright colors don't always play together well, as this scene demonstrates. Looking at the images from the
HTC 10
and the
LG G5
, we see overly bright highlights in well-lit areas. In contrast, the
iPhone 6s Plus
has preserved the highlights in all their richness, which in turn gives its image a very natural, eye-pleasing look.
Again, the images from the
Galaxy Note 7
and
Galaxy S7 edge
look nearly identical, with accurate colors and plenty of details. What's interesting, however, is that the
OnePlus 3
has preserved details a bit better, especially the finer ones, visible upon zooming in. This could be due to its higher megapixel count or because of the fact that the OnePlus 3 doesn't sharpen the image as aggressively.
Scene 2: score
iPhone 6s Plus
8.5
OnePlus 3
8.0
Samsung Galaxy S7 edge
7.5
Samsung Galaxy Note 7
7.5
LG G5
7.0
HTC 10
6.5
Scene 3: The Horseman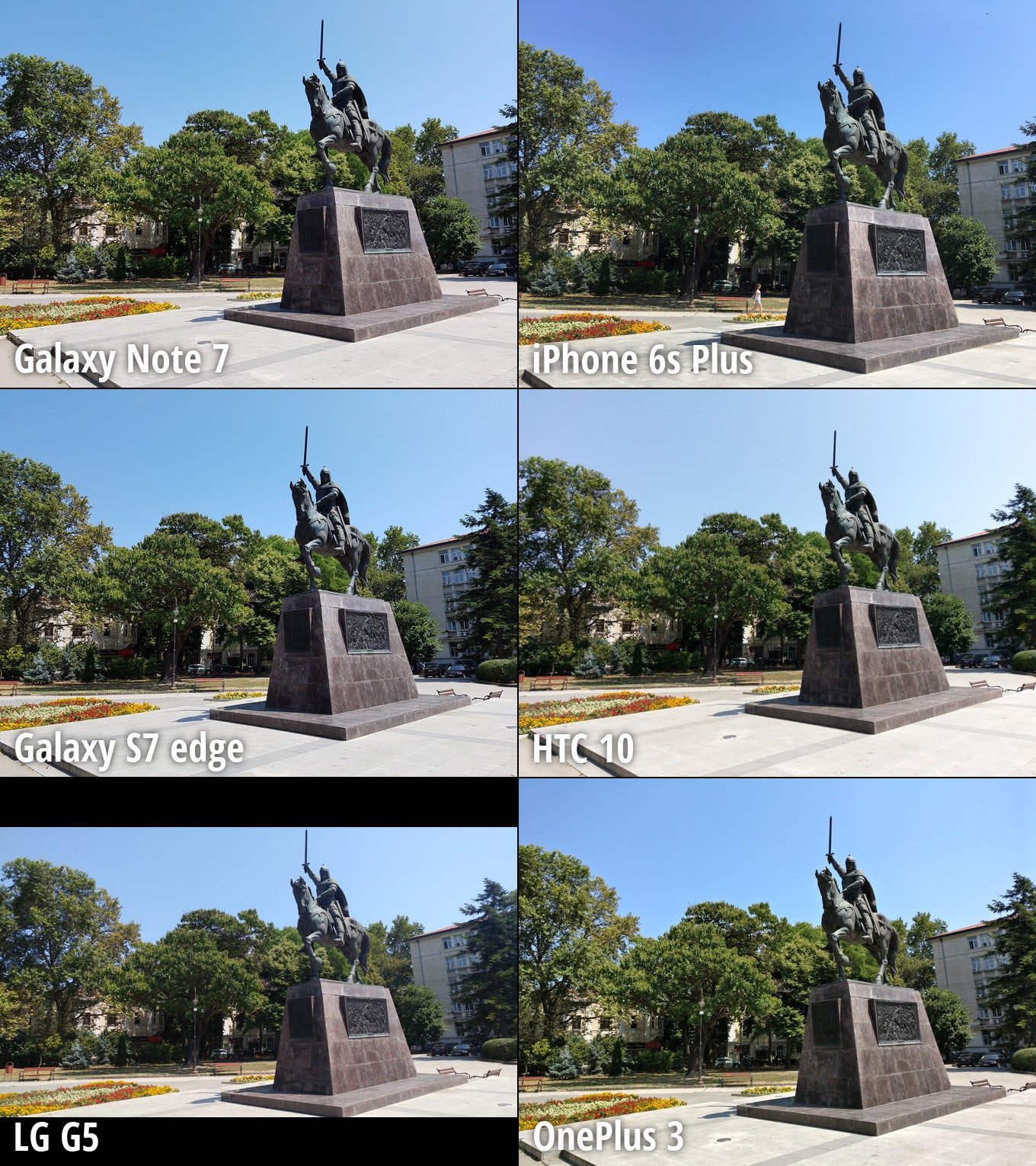 By now it should come as no surprise that the images out of the
Note 7
and the
S7 edge
look so similar to each other. They have the same neutral color tone, they're rich in detail, and there's plenty of sharpness applied to both. And yes, they do look fine to us, considering that dynamic scenes, such as this one, can be tricky to capture.
As for the rest of the photos, they're also pleasing, with only minor differences to be seen here and there. The
OnePlus 3
's picture, for example, has superior detail, but the overall color tone is slightly warmer. The
LG G5
also excels when it comes to details, but the shadows have this blueish tint to them. Highlights in the photo from the
HTC 10
look a tad brighter, yet colors are mostly pleasing. And the
iPhone 6s Plus
could use a hint of extra exposure in its image to bring out the detail in the shadows, as well as to render the sky's blue tone more naturally.
Scene 3: score
Samsung Galaxy S7 edge
8.0
Samsung Galaxy Note 7
8.0
OnePlus 3
8.0
iPhone 6s Plus
7.5
LG G5
7.5
HTC 10
7.5