Best Buy starting "Free Phone December" promotion today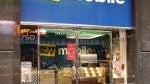 Best Buy enjoyed success with their October special "Free Phone Friday" and has reincarnated that promotion in the form of "Free Phone December" which will feature a phone on each of the four major networks for free a week at a time.
Verizon has seemed to be the network to have the best deals within the walls of Best Buy and Best Buy Mobile, and that remains the case as the HTC Droid Incredible will be available at no cost to new and existing customers with a qualifying two-year contract. This isn't the first time Best Buy has offered this phone for cheap, as it also went to free during their October promotion and was sold for a measly buck over Black Friday weekend.
LG is getting some love on both T-Mobile and Sprint, as the Optimus T and the Optimus S won't force you to tap into your bank account, or run up some more credit card debt. On AT&T, the Sony Ericcson Xperia X10, which is available in black and white (buying white gets you the exclusive Taylor Swift accessory pack, yippee), will also be getting the free treatment.
Not too bad, right? Best Buy has had some serious deals lately, and we all anticipate the deals only getting better as the holidays get closer and closer. Tell us what you think of the first week of "Free Phone December" in the comments below.