Best Android, iPhone and iPad games of the week
3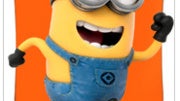 What a week for apps! Just a couple of days ago we learned that the
Apple App Store has grown to the mind-boggling 900 000 applications
, and in the coming months it should hit a million. Android is a very close runner-up and while we don't have an up-to-date number we are sure that in a couple of months Google will announce a similarly grand achievement for its Play store.
That's the big picture and since we have so many apps now in both catalogs, it's time to take our coverage up a notch. Instead of giving you just one monthly app update, we'll try and update you on the best new app arrivals weekly.
We are bundling iOS and Android games together since a lot of the titles launch on both platforms. This week, we have more Apple-exclusive games, but don't rush to see bias into this - Apple still has the larger catalog and just next week we might see more new and noteworthy Android games.
As always, we look forward to seeing your suggestions and thoughts in the comments section below - don't hesitate to tell us about your favorite apps, give us the heads-up if we missed something or just share your enthusiasm about a game.