Apple will allegedly unveil three new iPads in March, including a bezel-less 10.9-inch model
24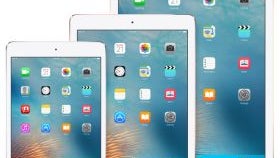 According to Barclays analysts, Apple's iPad series is up for a notable shake-up next year. Three new models are expected to be unveiled at an event next year in March.
From our perspective, the most interesting rumored update is an alleged bezel-less 10.9-inch iPad. Interestingly, Apple is said to have fitted in a much larger screen without increasing the footprint compared to the latest iPad Air, which features a 9.7-inch display.
Supply chain sources say that both the 9.7- and the 12.9-inch iPad Pro models will be updated although the series is in for a bit of a twist. Allegedly, the 9.7-inch iPad Pro won't be a premium tablet despite its 'Pro' name. Instead, it will feature entry-level specs and will be positioned in a more affordable segment of the market, probably somewhere above the iPad Mini.
While the 9.7-inch iPad Pro is expected to be nerfed with the next iteration, its larger brother is said to be improved. The 12.9-inch iPad Pro is expected to be updated to a True Tone display like the one on the current-generation 9.7-inch iPad Pro, an upgrade that made sense the minute the 9.7-inch iPad Pro came out.
For a brief moment, we'd like to get back to the alleged bezel-less 10.9-inch iPad. With Apple widely expected to launch the iPhone 8 with an edge-to-edge AMOLED screen next fall, the unveiling of a bezel-less iPad would provide us with a sneak peek at how Apple plans to approach edge-to-edge screens looking forward.
Since we've mentioned the iPad Mini, this new rumor indicates that Apple will not update the iPad mini series. Previous rumors dating back this October claimed that the iPad mini is in for its much-needed refresh, but this new rumor says it's not going to happen.
How does a bezel-less iPad Air sound to you guys?
source:
Apple Insider
Recommended Stories