Apple taking over downtown LA's Broadway Trade Center for secondary office and retail HQ?
5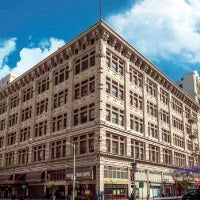 Last week, the Downtown Examiner claimed that Apple has leased a modest "several hundred thousand square-feet" inside downtown LA's Broadway Trade Center, a landmark building of 20 century history. Reportedly, the space will feature offices, a huge Apple store, and possibly a dedicated Beats outlet.
The building itself was opened in 1908, and it was initially known as the Hamburger Department Store - an old-timey mall that housed a restaurant, market, post office, a theater, a physician, a soda fountain, and a roof garden. Must have been quite the dating spot! Anyway, in 1923, it also became one of the USA's first parking garages, and in 1979, the building was put in the National Register of Historic Places for "contributing character" to downtown LA.
If the rumors spell any truth, then Apple has landed a really special place. We suspect it was the keen eye of Apple's current retail chief,
ex-Burberry CEO Angela Ahrendts
, that envisioned the famous building as the new Apple fort. Congratulations, then, but since we're unapologetic geeks, we're still more fancied by how
the "mothership" HQ in Cupertino
- perhaps the greatest monument to Steve Jobs' legacy - will turn out. Meanwhile, you can take a virtual tour of the downtown LA location courtesy of Google's excellent maps.
source:
Downtown Examiner
via
Apple Insider