Cupertino approves Apple futuristic 'spaceship' campus, its new home to open doors in 2015-2016
29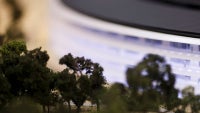 Apple's futuristic new home, the so called "Spaceship" campus, has been approved with a unanimous decision by the Cupertino City Council. Tim Cook shared the news in a rare tweet saying the new building will become Apple's
"home for innovation and creativity for decades to come."
The project has now officially gotten approval and it's a matter of time for the council to meet once again on November 15th for a final, but only perfunctory vote. All barriers that existed in the way of the Apple Spaceship campus have disappeared.
It was not an easy ride for Apple to convince Cupertino about the benefits of the new campus. The large circular building raised concerns on environmental and traffic grounds, and Apple had to make a special brochure and circulate it with residents to convince them there's no grounds for those concerns.
The spaceship campus is expected to cost Apple a whopping $2 billion, but it is truly gorgeous. The new physical model of the building has been recently presented and Apple pledges it takes special care to plant all sorts of trees and plants especially picked for the dry California climate. Take a look at what the spaceship would look like - it's expected to be finished somewhere around 2015 to 2016.
source:
@Tim Cook