Apple tablet rumor du jour includes GSM HSDPA connectivity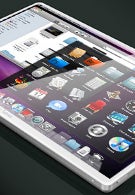 Time to swallow your daily dose of tablets. In this case, we are talking about the rumored Apple tablet where every day brings another tall tale. Today's story comes to us from the Taiwan Economic News. The paper says that the guys from Cupertino have designed themselves a device that features a 9.6 inch Wintek touchscreen display, uses a processor from Apple's own P.A. Semi, and will offer 3G connectivity through HSDPA which means (Gasp!) no Verizon Wireless.
All of this fresh info comes from battery maker Dynex. The power cell firm says it has a contract to produce 300,000 long lasting battery packs per month for the tablet. The long, long awaited product is expected out in February 2010 and should retail for $799 to $999 according to the report. If the tablet does use a HSDPA 3G connection, it would compete with Nokia's internet tablets and various carriers' netbook releases that also use a similar means to connect to the internet.
source:
TaiwanEconomicNews
via
BGR