Apple iPhone 6/Plus carrier and retail pricing on Verizon, AT&T, Sprint and T-Mobile
32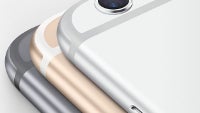 Apple isn't straying away from its traditional pricing with the
iPhone 6
on a two-year contract, be it on Verizon, AT&T, Sprint or T-Mobile. They will have it up for preorder on September 12th for $199 with subsidies.
The kicker, however, is that this is the starting price for a 16 GB iPhone 6 model, while for a Benjamin more you get not a 32 GB, but a 64 GB iPhone 6 on contract - certainly a welcome change. Things start to get hairy from here, as the new iPhones also have a 128 GB for the first time, which will run you $299 with carrier subsidies for the 4.7" one.
The
iPhone 6 Plus
phablet pricing starts from $299 on all major carriers, and takes it from there all the way up to $499 with a two-year contract, which must be the most expensive contract price for a phone ever. If you want the handsets without carrier shackles, tough luck, as only T-Mobile's prepaid pricing is listed for now, and it will start you off at the usual $649 for a 16 GB iPhone 6. The 5.5" juggernaut will cost you at least $749 in the land of John Legere, but, hey, T-Mobile will give you support for both Wi-Fi calling, and Voice-over-LTE, so you can take full advantage of those two new iPhone features.