Apple cuts into RIM's marketshare in latest smartphone survey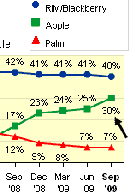 RIM still holds the lead in the U.S. smartphone market, but Apple is making a strong push to overtake them. According to the latest smartphone survey from ChangeWave, 4225 consumers were questioned and 39% said they owned a smartphone. From that group, RIM was the leading manufacturer with 40% of the total. Charging strongly is Apple with the iPhone. Since the last survey in June, the Cupertino based firm added a strong 5 percentage points to its' cut of the pie, going from 25% to 30% of the market. Palm was a very distant third (ever look through binoculars the wrong way around? That is is how Palm views Apple at this point) with a static 7% share of the total. An astounding 74% said they were satisfied with the iPhone while 43% of BlackBerry users said the same thing about their phone. LG came in third with 39% of its' customers saying they are satisfied. With a poor 17% of customers reporting satisfaction, Sony Ericsson landed in last place.
When it comes to future purchasing of smartphones, the iPhone leads the way with 36% of those surveyed expecting to pick up Apple's iconic touchscreen phone, down from the 44% reading in June. RIM rose from the 23% planning to buy a 'Berry in June, to a 27% reading in the new survey. Palm remained third with a 8% reading. Charlie Brown once told Lucy to tell her statistics to shut up. Not only is this a fairly small sample size, but the dynamics of the smartphone business are changing rapidly with a number of new devices about to hit the market including the Android powered Motorola Droid and the Maemo powered Nokia N900 to name just a couple.
source:
TheiPhoneBlog