Apple abandons Samsung for A5 chip, partners with Taiwanese TSMC?
4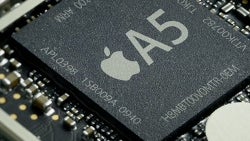 Apple's A5 dual-core chip is what makes the iPad 2 tick, but Apple's system-on-a-chip might be produced byTaiwanese TSMC instead of Samsung, which manufactured the A4chip on the original iPad and the iPhone 4, according to a sourcequoted by EETimes. There are three main reasons behind Cupertino'sdecision, but the most notable one is reportedly Samsung's role as acompetitor to Apple products. In addition, TSMC has the largestcapacity and the highest yielding 40nm process in the world. Capacitycould become an issue if tablets live up to the hype and are receivedwell by customers.
Reportedly, Apple will also work withTSMC on 28nm processors, possibly for the next generation ofthe iPad, the source added. Another report claims that iPad 2production grows "faster than expected" with 5.5 million unitsexpected to be produced in the first quarter of the year alone. Butthat means nothing if people don't buy it. Will you get thesecond-gen tablet from Apple? Let us know by voting in our latestpoll here.